All eCall SMS API
We provide you with all the important interfaces (SMS API)
Interfaces for integrated business messaging via our Swiss SMS gateway.
Easily connect eCall to your applications, websites or apps via our flexible and powerful interfaces. Extend your business as well as your web applications with reliable SMS functionality via the eCall SMS gateway.
HTTP/HTTPS access
HTTP/HTTPS access makes it possible to send messages from any software via the Internet. In this way, messages can be sent simply by calling up a URL.
This method is particularly suitable as a solution for web programmers (from PHP, .ASP…) . Simply put, it corresponds functionally to calling up a web page.
WebService access
The WebService access offers the possibility to send messages to different call systems via standardised web methods.
Universal Computer Protocol (UCP)
To exchange text messages between different network elements and an SMSC, one uses the Universal Computer Protocol (UCP).
E-mail Interface
This access makes it possible to send a transmission order directly by e-mail to a mobile phone (SMS), to a pager, to a fax (incl. file attachment), or to a telephone (voice message). Any mail programme (MS Outlook, Netscape Messenger, Lotus Notes, …) can be used for this purpose.
SMPP access
This service provides access to the short message peer to peer (SMPP) interface to send SMS. The SMPP interface uses a standard protocol that is primarily used to connect to short message service centres (SMSC) for mobile phones. This direct connection allows, among other things, a large amount of messages to be sent very quickly, easily and reliably.
TCP/IP access
Via universal TCP/IP access, software can send messages directly via the Internet.
Our SMS API of our gateway simplifies your corporate communication
Quick and simple to integrate into your business application
Interface specifications SMPP, WebService, HTTP/HTTPS
Code examples
No setup fees for the APIs
No licence fees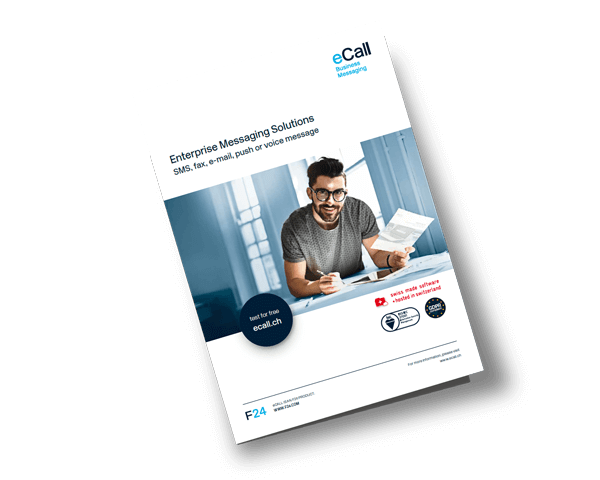 Find out here which functions
our gateway and SMS API offers