SMS & fax dispatch and reception in the healthcare and pharmaceutical sectors
In the healthcare and pharmaceutical sectors, the majority of communication still takes place via classic fax. That is why our Internet fax solution is often used there. In addition, the delivery of appointment reminders to patients via SMS reduces idle time by up to 50%. And it also simplifies the coordination of caregivers.
Sending documents by fax
eCall in use
It is estimated that half of medical practices still use traditional fax machines to send medical reports and referrals. The IT company BlueCare AG from Winterthur has therefore integrated the fax service of eCall into its software solution "BlueConnect". The special application for the health sector helps medical practices to efficiently manage the growing mountain of administrative tasks and to improve practice processes.
Why customers appreciate eCall
"The established system eCall meets the technical requirements and F24 Switzerland (formerly Dolphin Systems) convinced us with its professionalism, with which it took up our individual requirements."
– Natalie Cartier, Head of Communications, BlueCare
Online fax
eCall in use
B. Braun Medical AG, the global manufacturer of medical technology products, has replaced its fax receiving and dispatch system. The fax cloud solution is used in all Swiss branches instead of a local server infrastructure. eCall provides 1,100 fax numbers. This enables a simplification of the operation at reduced costs.
Why customers appreciate eCall
"The collaboration with F24 Switzerland (formerly Dolphin Systems) was a partnership during the design and operation phase. This was evident, for example, in the automated user opening via the export/import interface. And not least because of the massive cost reduction."
– Helmut Fischer, System Engineer IT Infrastructure at B. Braun
Employee information via SMS
eCall in use
Balgrist University Hospital uses SMS in the area of nursing services in order to call up the sitting guards from the deployment pool in an uncomplicated and quick manner. If required and taking into account their availability, an SMS is sent to the employees via the web, which shows the open services. The sitting guards respond directly via their mobile phones, and messages are received at the clinic via a predefined e-mail address. The process is extremely efficient.
Why customers appreciate eCall
"The advice from F24 Switzerland (formerly Dolphin Systems) was excellent. On the basis of our needs analysis and quantity structure, a largely tailor-made solution was proposed to us. The online service has now been in operation for some time and has proved very successful. The price-performance ratio is right. Working with Dolphin Systems is pleasant, issues are handled quickly, reliably and competently."
– Judith Seitz, Head of Nursing Care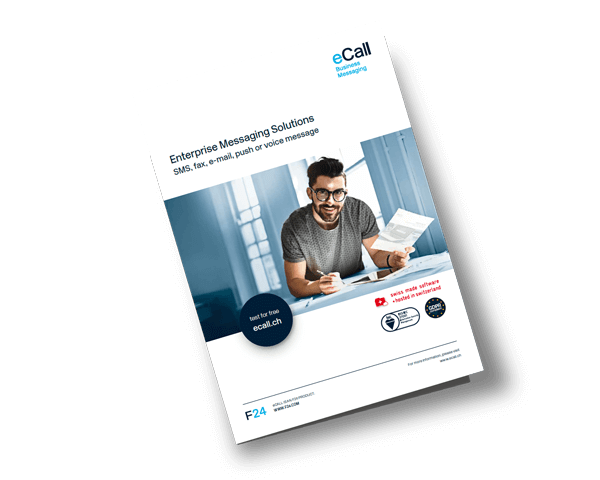 Optimise your business communication with eCall
Find out from our product brochure how to integrate our business messaging service into your software solutions, CRM and ERP system or apps without much effort.
Find out how our SMS service is used in different industries.
We connect businesses with people. eCall is the leading Swiss provider for professional business communication in all areas.
Simply try it out for free. If you have any questions, we will be happy to assist you individually.
Telephone support
during office hours:
+41 44 787 30 70
Request or support
by e-mail:
Contact
by fax:
+41 44 787 30 71