SMS & Fax transmission and reception in the healthcare and pharmaceutical sectors
In the healthcare and pharmaceutical sectors, a large part of communication is still carried out via traditional fax. Therefore, our Internet fax solution is often used there. In addition, the delivery of appointment reminders by SMS to patients reduces idle time by up to 50%. And it also simplifies the coordination of nursing staff.
Sending documents by fax
eCall in use
An estimated 50% of medical practices still use conventional fax machines to send medical reports and referrals. IT company BlueCare AG in Winterthur has integrated eCall's fax service into its "BlueConnect" software solution. The solution helps medical practices to deal with the growing number of administration tasks more efficiently and to improve processes in the practice.
Why customers appreciate eCall
"The well-established eCall system fulfils our technical requirements, and F24 Schweiz AG (former Dolphin Systems AG) dealt with our individual requirements with extremely convincing professionalism."
– Natalie Cartier, Head of Communications, BlueCare
Online fax
eCall in use
B. Braun Medical, global manufacturer of medical devices, replaced its fax transmission and receipt system. The company now uses eCall as a cloud-based fax solution throughout its Swiss branches, replacing its local server infrastructure. eCall provides 1,100 fax numbers. This enables operations to be simplified and cost savings to be made.
Why customers appreciate eCall
"Dolphin Systems worked with us as partners during the design and operation phase. For instance, they implemented automated user account opening via the export/import interface. And the enormous reduction in costs was an important factor."
– Helmut Fischer, System Engineer IT Infrastructure at B. Braun
Employee information via SMS
eCall in use
Balgrist University Hospital uses eSMS in its nursing care services, as a rapid, simple way of contacting duty staff from the pool of reserve staff. When required, and taking availability into consideration, an online SMS is sent out to the staff listing the unfilled roster positions. Duty staff reply directly using their cellphones; the clinic receives the messages at a predefined email address. The process is exceptionally efficient.
Why customers appreciate eCall
"The consultancy service we received from Dolphin Systems was outstanding. Based on an analysis of our needs and the traffic volumes involved, they proposed a largely customized solution. Our online service has now been in operation for some time and has proved its excellence. It offers outstanding value for money. Our working relationship with Dolphin Systems is very smooth; any issues are dealt with rapidly, reliably and expertly."
– Judith Seitz, Head of Nursing Care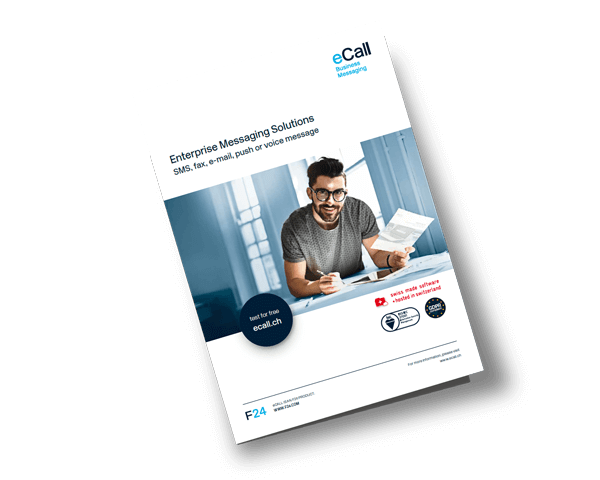 Optimise your business communication with eCall
Find out from our product brochure how to integrate our Business Messaging Service into your software solutions, CRM and ERP system or apps without much effort.
Find out how our SMS service is used in the various industries.
We connect businesses with people. eCall is the leading Swiss provider for professional business communication in all areas.
Just test it for free. And if you have any questions, we will be happy to assist you personally.
Telephone support
during office hours:
+41 44 787 30 70
Request or support
by e-mail:
Contact
by fax:
+41 44 787 30 71