SMS functions for the IT and telecommunications sector
2-factor access security solutions, SMS authentication with an OTP or interfaces for mail programs are just a few examples of eCall's applications for high-volume and confidential communication in the IT and telecommunications sector.
Double secured access with SMS
eCall in use
Bedag Informatik AG was seeking a two-factor access security function for the "BE-Login" project set up by the IT and Organization Office of the Canton of Bern. The company chose eCall's mTAN function as the modern, cost-efficient solution they required. Two-factor access security was an essential prerequisite for the e-government portal of the Canton of Bern.
Why customers appreciate eCall
"The references of eCall have shown that already successful collaboration with large customers is possible and secure and highly available systems are provided accordingly. There are no problems with the delivery of the mTANs, so I can recommend the eCall SMS gateway without restriction."
– Markus May, Bedag Informatik AG
SMS authentication customer portal
eCall in use
Open Systems AG designs, operates and monitors global IT security systems. The Switzerland-based IT security experts have used our services for SMS authentication since 2011. The portal is used specifically for collecting data such as price information.
Why customers appreciate eCall
The center for Open Systems is the fast and reliable delivery of SMS, which is indispensable for authentication for multi-level security solutions. The Basel-based company supports well-known companies, institutions and non-profit organizations from 175 countries and in more than 500 cities.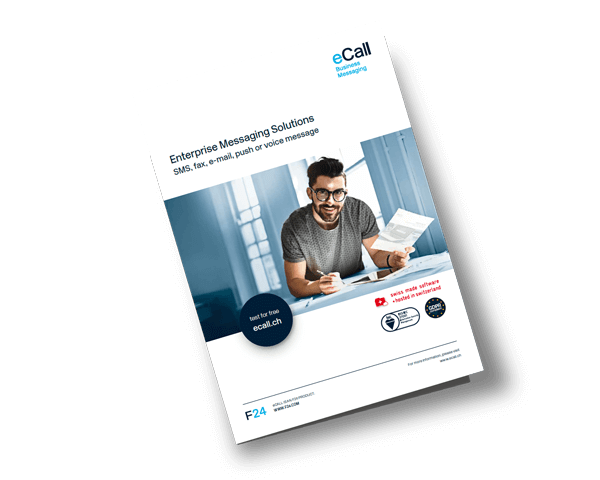 Optimise your business communication with eCall
Find out from our product brochure how to integrate our Business Messaging Service into your software solutions, CRM and ERP system or apps without much effort.
Find out how our SMS service is used in the various industries.
We connect businesses with people. eCall is the leading Swiss provider for professional business communication in all areas.
Just test it for free. And if you have any questions, we will be happy to assist you personally.
Telephone support
during office hours:
+41 44 787 30 70
Request or support
by e-mail:
Contact
by fax:
+41 44 787 30 71