Suitable SMS and fax applications for the energy and industry sector
So that confidential to critical information can be bundled in one place, integrated fax and SMS solutions are also in demand in the energy and industry sectors.
SMS and fax service for incoming and outgoing messages
eCall in use
The innovative premium dairy product manufacturer replaced its server-based communication system with Dolphin Systems AG's cloud-based solution. Emmi's system now offers high availability without additional costs, while users benefit from its easy-to-operate design. They use the SMS and fax service for incoming and outgoing messages. The new solution is web-based with no need for special software, additional infrastructure or telephone lines. The company was able to downsize its systems, getting rid of two fax servers and ISDN cards and saving on an additional ADSL connection.
Why customers appreciate eCall
"Advice and support are always good, including questions related to operation. eCall is so easy to use; a simple instruction manual was all that was needed to ensure that users coped with the changeover."
– Armin Roos, Head of Clients & Field Service Team
Scheduling of service technicians via SMS
eCall in use
Our eSMS communications service supports service planning operations at elevator company ThyssenKrupp Aufzüge AG for efficient processing of fault reports. The service planning system records the reports using custom software developed for ThyssenKrupp. When a fault report comes in, eCall automatically directs it to the service technicians. They confirm receipt of the order, also by SMS, and this confirmation is sent to the mailbox of the service planning unit.
Why customers appreciate eCall
"Simplicity of operation and management was an important criterion for us in addition to low costs. The Web interface was the perfect answer. We were also convinced by the straightforward billing procedure. Unlike other providers, we're not simply disconnected if we've used up all our units without realizing."
– Dominik Hug, Head of IT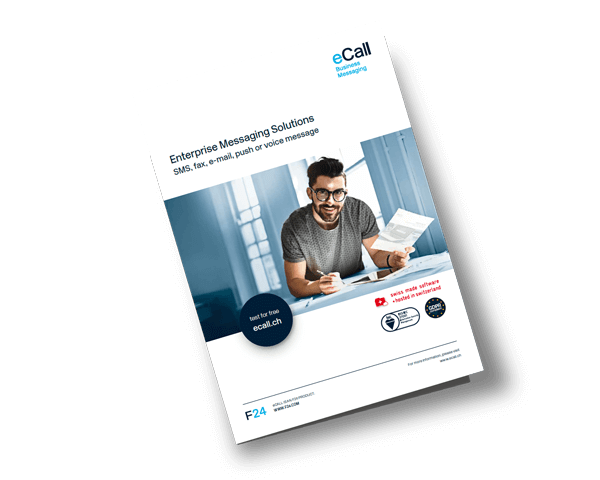 Optimise your business communication with eCall
Find out from our product brochure how to integrate our Business Messaging Service into your software solutions, CRM and ERP system or apps without much effort.
Find out how our SMS service is used in the various industries.
We connect businesses with people. eCall is the leading Swiss provider for professional business communication in all areas.
Just test it for free. And if you have any questions, we will be happy to assist you personally.
Telephone support
during office hours:
+41 44 787 30 70
Request or support
by e-mail:
Contact
by fax:
+41 44 787 30 71