Suitable SMS and fax applications for the energy and industry sector
So that confidential to critical information can be bundled in one place, integrated fax and SMS solutions are also in demand in the energy and industry sectors.
SMS and fax service for incoming and outgoing messages
eCall in use
The innovative premium dairy has replaced its server-based communications solution with the cloud solution from F24 Schweiz AG. Emmi now operates a highly available system – at no extra cost. In addition, the users benefit from the easy handling. Users use the SMS and fax service for incoming and outgoing messages. The new solution is web-based and requires no software, additional infrastructure or phone lines. Thus, two fax servers including ISDN cards could be disposed of and an additional ADSL connection could be saved.
Why customers appreciate eCall
"Advice and support are always good, even with questions around the business. The switch to eCall worked because of its simplicity with users with a simple user guide."
– Armin Roos, Head of Clients & Field Service Team
Scheduling of service technicians via SMS
eCall in use
Our communication service supports the service scheduling of ThyssenKrupp Aufzüge AG in order to handle fault orders efficiently. Servicedispo records these in software specially developed for ThyssenKrupp. When the fault is recorded, the fault order is automatically transmitted to the service technicians via eCall. The technicians also confirm receipt of the order by SMS. This confirmation lands in the service dispatcher's email inbox.
Why customers appreciate eCall
"Besides the cost issue, it was important that the service be easy to manage. This is given with the web interface. We were also convinced by the uncomplicated way of billing. Unlike other providers, we don't just get disconnected here should the units accidentally run out."
– Dominik Hug, Head of IT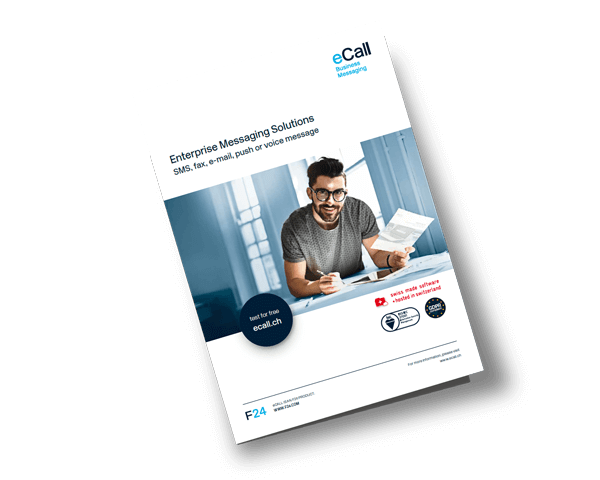 Optimise your business communication with eCall
Find out from our product brochure how to integrate our business messaging service into your software solutions, CRM and ERP system or apps without much effort.
Find out how our SMS service is used in different industries.
We connect businesses with people. eCall is the leading Swiss provider for professional business communication in all areas.
Simply try it out for free. If you have any questions, we will be happy to assist you individually.
Telephone support
during office hours:
+41 44 787 30 70
Request or support
by e-mail:
Contact
by fax:
+41 44 787 30 71