SMS gateway for sending & receiving business SMS via software, interfaces,
web applications as well as apps
Send and receive text messages with our SMS gateway via software,
web applications as well as apps.
Quick implementation of the SMS gateway in CMS/ERP systems
and simple application via browser and numerous interfaces
Integrate the Swiss SMS gateway into your CRM or ERP system, apps, desktop applications, software or websites. With our messaging service, you send and receive text messages to mobile phones all over the world.
In addition, our system achieves a delivery rate of 99.85%. We offer the appropriate interfaces (API) for reliable & lightning-fast sending of business SMS.
Get to know the
eCall SMS gateway
In 2 minutes you are ready to test with all functions. You will receive the necessary SMS free of charge.
SMS gateway functionality and areas of application
Via the eCall interfaces, you send and receive SMS messages to individual persons, groups or machines via our gateway.
The automated sending and receiving is done directly from your company software (cash desk, bookings, reservations), from your mobile apps or with your usual email program.
The eCall SMS gateway and its interfaces – explained in simple terms
An SMS gateway allows the sending and receiving of SMS messages by means of devices other than mobile phones. An interface – called API for short (from application programming interface) – is the part of a system that is used for communication.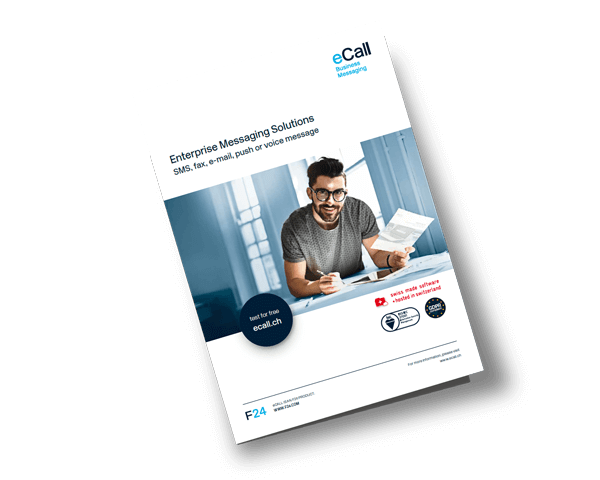 Learn how to optimise your business processes with our SMS gateway.
Interfaces for the SMS gateway
Our system offers various APIs: SMPP, TCP/IP, HTTPS, WebService, SOAP, UCP etc. as well as connections to standard software from RSA SecurID Appliance, SMS Passcode and SafeNet.
Additional option: Business SMS prioritisation
With the "top prioritisation" option, you can send important messages to your recipients in seconds: for example, security codes to mobile phones as part of an access security system or even as a mass mailing.
Additional option: High Privacy SMS
We have developed this data protection option for sending sensitive data such as mTANs, OTPs, security or access codes by our sms gateway, passwords, patient data, banking and insurance information. After transmission, the system overwrites the message so that it cannot be reconstructed. For confidential to critical content, this feature is the ideal addition.
Discover even more additional options
for your individual requirements here.
Your advantages with the eCall SMS gateway
Quality – send messages with a direct connection to top Swiss providers
Security – data remains in Switzerland at all times
Reliability– system availability of > 99.8 % thanks to redundant gateway infrastructure
Tempo – delivery of business SMS to the whole world in seconds
Service – billing via monthly invoice, own sender numbers
Get your free trial account in just 2 minutes!
eCall SMS Gateway –
this is how our solution for business messaging is used in practice
Web applications, apps and web portals
Extension of the functionality by sending SMS.
ERP systems and CRM solutions
Extension of functionality through integration of text messaging.
Personal customer communication
Increase customer satisfaction through better customer service via SMS with order confirmations, delivery notifications, booking confirmations, pick-up reminders, reservation confirmations, appointment reminders, flight information or taxi orders.
Marketing campaigns
Increase sales thanks to high customer attention during promotions. 98% of all text messages are proven to be read. The response rate is up to 100 times higher than any other communication channel.
Unternehmens- oder Organisationskommunikation
Direct and fast communication with employees, suppliers, partners, citizens, members, pupils or students. The response time is on average 90 seconds compared to 90 minutes for emails.
Zwei-Faktor-Authentifizierungen
High access security with simple handling by sending SMS with mTANs, one-time passwords, access codes etc. to mobile phones.
Over 15,000 customers from a wide
range of industries rely on eCall
Our pricing models
We offer different price models or individual conditions. Let's talk about a tailor-made offer to suit your needs. Our price overview will give you some initial pointers.
Supplement your business communication with SMS functionalities to inform customers, patients and employees – for example with appointment reminders.
May we advise you personally? We look forward to getting to know you!