Sending messages
with eCall
Sending messages with eCall: via SMS, fax, e-mail, pager messages, voice messages (text-to-speech) and push messages. And soon also using RCS "Rich Communication Services"…
These communication channels are available to you
SMS
SMS can be sent from our web portal, with any e-mail program or via one of our interfaces (API).
Fax
Send fax messages directly from your usual e-mail program or our web portal. You can also fax via interfaces.
E-mail
Using eCall, you can send mail-to-SMS or SMS-to-mail messages with any e-mail program. In the same way, you can send fax-to-mail and mail-to-fax messages. In addition, you can send push messages to the messenger "Threema" by e-mail.
Push messages
With eCall, it is possible to send push messages to users of the Swiss messenger app Threema. All you have to do is to select an individual sender. Sending is possible via the web portal from your account as well as with any e-mail program.
Pager
eCall allows you to send messages to pagers directly in our web portal.
Voice messages | Text-to-speech
Written text can be converted to a voice message by our system. eCall then calls the desired recipient and reads out the message (including landlines). You can send voice messages via web portal from your account or using an interface.
Coming soon: RCS!
The Rich Communication Services" RCS technology will sooner or later replace the good old SMS. eCall is also looking to implement the new standard and has, therefore, started the development of a client in its "programming forge". Soon you will be able to send messages via RCS.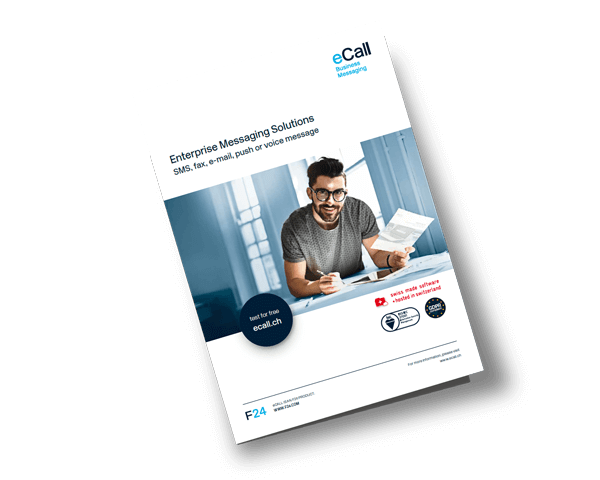 Find out which functions our SMS gateway offers when sending messages