Secure SMS solutions for banks and insurance companies
Security is a top priority in the financial and insurance sector. Companies in this sector use our SMS service to protect access to confidential or sensitive content on the Internet as a second identification element in a 2-factor authentication.
Send mTANs via SMS to mobile phones
eCall in use
Employees at Swisscanto are granted access to the internal system with a combination of password and mTAN. The codes for the second level of authentication are sent to the employees' cellphones using SMS Gateway. The IT department at Swisscanto made the changeover to an access security system that involved no extra hardware; this significantly simplified the company's hosting and administration duties. Users likewise appreciate the easy-to-use system. No need for the additional device or "token".
Why customers appreciate eCall
"Today everyone carries their cellphone around with them everywhere they go, so the SMS solution is extremely practical. Our employees are very satisfied with the solution, and would never think of returning to a more complicated system."
– Markus Küng, Head of IT Infrastructure and Member of the Board of Swisscanto
Access codes for customer portal via SMS
eCall in use
At Sanitas, customers can manage their documents directly in the online portal. The portal features integrated two-factor authentication built on eCall mTANs as the main element, thus ensuring top security for sensitive insurance data. To protect the data from unauthorized access, an SMS is sent to the customer's cellphone as an additional security procedure. The system provides customers with fast, simple yet secure access to their data – any time, anywhere.
Why customers appreciate eCall
"Thanks to state-of-the-art technology, data security has now reached the same advanced level as e-banking for banks."
– Andrea Eglin, Service Management specialist at Sanitas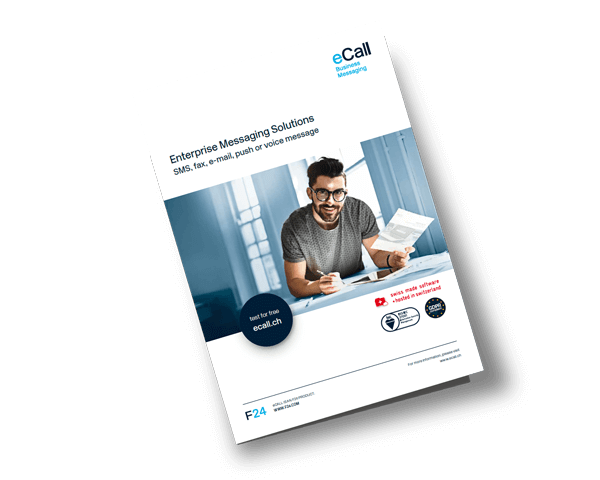 Optimise your business communication with eCall
Find out from our product brochure how to integrate our Business Messaging Service into your software solutions, CRM and ERP system or apps without much effort.
Find out how our SMS service is used in the various industries.
We connect businesses with people. eCall is the leading Swiss provider for professional business communication in all areas.
Just test it for free. And if you have any questions, we will be happy to assist you personally.
Telephone support
during office hours:
+41 44 787 30 70
Request or support
by e-mail:
Contact
by fax:
+41 44 787 30 71