The Swiss communication service for your company
The communication service for all industries: Send SMS, fax, push and voice messages reliably and at lightning speed
Messaging solutions for your business:
How to reach your customers via SMS, fax, e-mail or voice message
We connect businesses with people. With our messaging service, you are automatically in direct contact with your customers.
Thanks to the flexible and powerful SMS APIs and other interfaces, you can easily connect eCall to your own applications, software programmes and websites.
Your advantages with online SMS
and online fax from eCall
100 % Swiss made software: redundant data centres in Switzerland
Reliable and secure: system availability of > 99.9 %
High usability: easy implementation using a browser and many interfaces
Reliable and direct contacts: individual support
Leading provider of business messaging: over 30 years of experience on the Swiss market
Certified for information security: according to ISO/IEC 27001:2013
Premium service: cooperation exclusively with premium providers
Test all eCall functions without obligation.
After that, you can take advantage of a 50% discount for new customers.
Over 15,000 customers rely on communication with eCall
via SMS, fax, voice and push messages
With our SMS gateway you can rely on over 30 years of Swiss know-how, data security and reliability.
Swiss SMS gateway
Instant and worldwide delivery of online SMS messages for businesses.
E-mail to SMS
Send and receive SMS with any e-mail program, such as Outlook or Gmail.
Online fax
Worldwide online faxing via e-mail or Webportal. For hospitals & medical practices with HIN encryption.
Rent mobile phone numbers and fax numbers
Own virtual mobile phone or fax number for receiving.
Customer communication via text message
Appointment reminders, delivery status, reservations, etc.
mTAN for 2-factor-authentication & OTP
Send mTANs and one-time passwords (OTP) by SMS.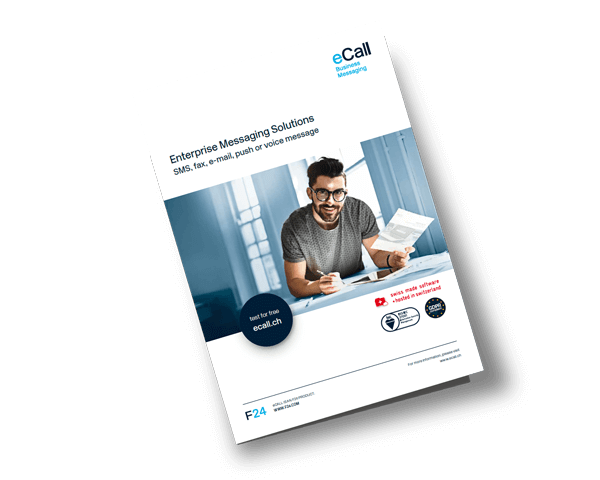 Find out how you can optimise
your business processes with our SMS gateway
Clever solutions for companies to send and receive text messages, fax as well as push and voice messages
With the communication via our SMS gateway, you achieve more attention with your target groups than with any other medium. eCall is suitable for companies from any industry. Wherever you want to communicate on the move or send automated messages – via SMS, fax, e-mail or as a voice message.
Areas for developers and programmers
Ready to test in 2 minutes. With numerous interfaces and additional functions.
Learn more about all certificates for our HTTPS applications.
On the status page you can see the
current status of all our services at any time.
Become an eCall partner
Our partner offer is aimed at companies that develop software or integrate and maintain it at customers. Do you attach great importance to reliability, quality and top support? Then with us you have found a provider who offers exactly that. All services are 100% Swiss made. You also benefit from our almost 30 years of experience in the Swiss IT market. eCall expert Martin Ulrich is always available to answer your questions +41 (0)44 787 30 75
Reviews from our customers
On our review page you will find the opinions of various eCall customers.
If you are already one of our customers, we look forward to receiving your review.
Just test it for free. And if you have any questions, we will be happy to assist you personally.
Telephone support
during office hours:
+41 44 787 30 70
Request or support
by e-mail:
Contact
by fax:
+41 44 787 30 71