Public sector:
Sending SMS and faxes
In the public sector, our SMS and fax portal is used for confidential to critical communication in national and international incidents.
Sending SMS in case of special events and situations on the national roads
eCall in use
FEDRO (Federal Roads Office) operates in the field of road transport, developing principles for sustainable federal policy in this area. Our cloud-based communication service is responsible for sending SMS messages and rapidly providing information on exceptional events and situations on our federal roads. Messages can be sent to ASTRA's partners (regional units / works yards) and to internal decision-makers via the Swiss Traffic Management Centre (VMZ-CH).
Why customers appreciate eCall
"The advantage of a communication service like eCall is its ability to spread information to our partners and internal offices rapidly and efficiently. This technology, together with its associated services and options, is a de facto global standard and supports messaging to mobile devices irrespective of location. The working relationship, the services we receive and the support from Dolphin Systems are always extremely professional and pleasant."
– Marcel Balli, Head of Traffic Telematics VMZ-CH
SMS-Entführungsalarm der Schweizerischen Eidgenossenschaft
eCall in use
In Switzerland, the police additionally inform about child abductions via eCall. The SMS service is a supplement to the already existing national alarm system and enables very fast and widely distributed alerting.
SMS Kidnapping Alert of the Swiss Confederation
eCall in use
In Federal Bern, we ensure the technical processes for sending SMS text messages abroad run smoothly. The Internet platform Itineris, operated by the Swiss Federal Department of Foreign Affairs (EDA), enables international travellers to deposit information on their travel destination, any co-travellers and their contact details. In the case of violent conflict or natural disaster, the EDA can rapidly warn the persons involved and keep them informed.
Why customers appreciate eCall
For more information and to register, visit www.traveladmin.ch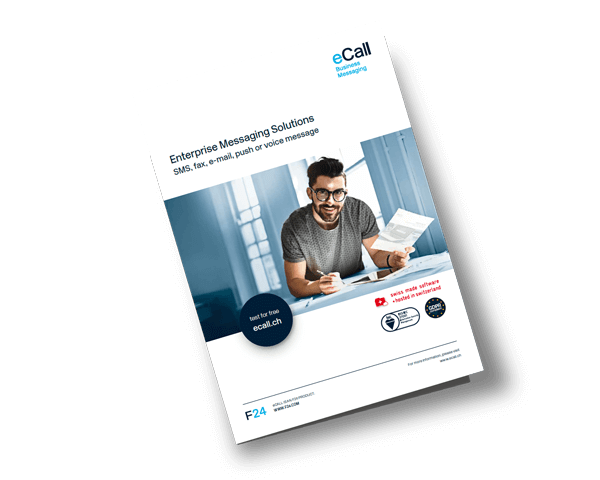 Optimise your business communication with eCall
Find out from our product brochure how to integrate our Business Messaging Service into your software solutions, CRM and ERP system or apps without much effort.
Find out how our SMS service is used in the various industries.
We connect businesses with people. eCall is the leading Swiss provider for professional business communication in all areas.
Just test it for free. And if you have any questions, we will be happy to assist you personally.
Telephone support
during office hours:
+41 44 787 30 70
Request or support
by e-mail:
Contact
by fax:
+41 44 787 30 71