Public sector:
Sending SMS and fax messages
In the public sector, our SMS and fax portal is used for confidential to critical communication
in national and international incidents.
SMS dispatch in the event of special incidents and situations on the national roads
eCall in use
The Federal Roads Office (FEDRO) develops the basis for a sustainable federal policy in the field of road transport. Our cloud-based communication service is responsible for sending SMS and the rapid delivery of information on special events and situations on the national roads. The information is sent to the FEDRO partners (territorial units / depots) and to the internal decision-makers via the Swiss Traffic Management Centre (VMZ-CH).
Why customers appreciate eCall
"The advantage of such a communication service as eCall is the rapid and efficient dissemination of information to our partners and internal agencies. This technology, and the associated services and capabilities today, is also a de facto global standard and supports location-independent delivery of messages to mobile devices. The cooperation and related services, as well as the support of Dolphin Systems are always professional and very pleasant."
– Marcel Balli, Head of Traffic Telematics VMZ-CH
SMS kidnap alert from the Swiss Confederation
eCall in use
In Switzerland, the police also provide information on child abductions via eCall. The SMS service is an addition to the already existing national alarm system and enables a very fast and broadly spread alerting.
"Travel Admin" app from the Federal Department of Foreign Affairs FDFA
eCall in use
We ensure a smooth technical process for sending SMS to travellers abroad at the Federal Office in Berne. Via the Travell Admin app of the Federal Department of Foreign Affairs (FDFA), travellers abroad can leave details of their destination, any fellow travellers and how to reach them. In the event of violent conflicts or natural disasters, this enables the FDFA to warn and inform the affected persons quickly by SMS.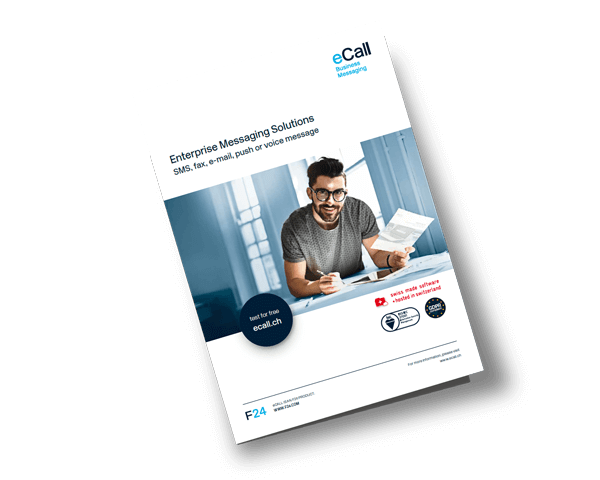 Optimise your business communication with eCall
Learn from our product brochure how to integrate our business messaging service into your software solutions, CRM and ERP systems or apps without much effort.
Find out how our SMS service is used in different industries.
We connect businesses with people. eCall is the leading Swiss provider for professional business communication in all areas.
Simply try it out for free. If you have any questions, we will be happy to assist you individually.
Telephone support
during office hours:
+41 44 787 30 70
Request or support
by e-mail:
Contact
by fax:
+41 44 787 30 71