Send and receive SMS online on your PC
With online SMS you can send, receive and manage your messages conveniently via our web platform.
Make your life easier and write a SMS messages online using your computer
With online SMS you can send and manage messages directly via our web platform, and using the web browser of your choice. You do not need your own equipment, software or additional programs.
The business SMS service optimises your communication with customers, employees and partners. eCall is a professional Swiss business application for companies from any industry to send text messages.
How you can benefit from online SMS
Own number or alphanumeric sender (e.g. company name)
Easy to use, reliable message sending and receiving
High scalability, many extensions, SMS with up to 1500 characters
Automatic reply SMS & forwarding SMS as a voice message via a phone call

Personal telephone support

from Wollerau in Switzerland
Direct connections to the providers Swisscom and Sunrise
Setting up standing orders
Extensive logbook, archive and statistics
Start and send SMS in less than 2 minutes!
Communication via online SMS – key areas of use
Reduce missed appointments by up to 50% and prevent loss of revenue.
Reliable and fast notification
of special events.
Coordination of employees and temporary staff or information to the field service.
Send information about the order and the entire delivery status.
Individual messages & bulk text messages with acknowledgement of receipt
Communicate with one or hundreds of people via online SMS. You can upload your contacts using
a CSV file to create groups. You will receive a confirmation of receipt for each text message.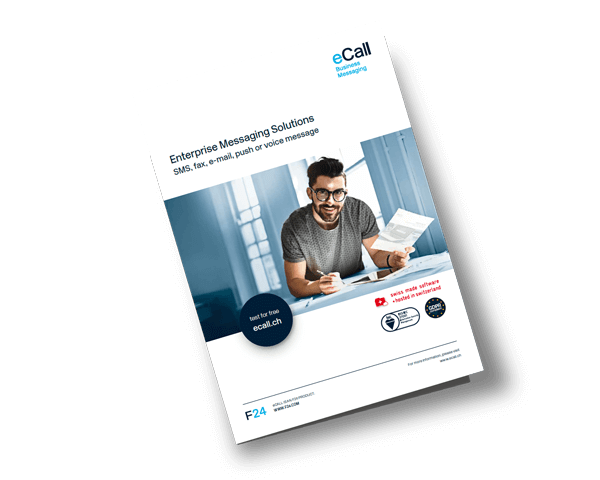 Optimise your business communication with online SMS
Learn from our product brochure how to integrate our business messaging service into your software solutions, CRM and ERP system or apps without much effort.
Personal virtual mobile phone number
Rent your own virtual mobile numbers so that customers and employees can respond directly to your online SMS. The answers can then be viewed clearly in the eCall logbook or downloaded as a CSV file.
Flash SMS and Prio SMS+
These are special types of SMS messages: These messages are prominently displayed on the home screen of the mobile phone. They are sent with a higher priority than conventional text messages and recipients of PrioSMS+ are alerted twice on their mobile phones. In this way, you achieve maximum attention from your target groups.
Text-to-speech messages
eCall converts the written text into speech. The system calls the recipient and reads out the message.
If a message is not listened to the first time, it is repeated twice in an interval of 5 minutes.
Simply try it out for free. If you have any questions, we will be happy to assist you individually.
Telephone support
during office hours:
+41 44 787 30 70
Request or support
by e-mail:
Contact
by fax:
+41 44 787 30 71