Send and receive fax online on the PC
Implement our fax solution in your business applications and software. You can also send faxes online with any e-mail program or fax via our web portal.
Sending a fax online over the internet is just as easy as sending an e-mail
Fax as a technology may be old, but it is still relevant and indispensable in everyday business life. That's why we host your fax solution and you save the expense of fax machines, additional phone lines, servers, paper and toner.
Communicate globally with your customers, suppliers, partners and employees. Online faxing is simple, audit ready and fast. We take care of your fax problems.
Sending faxes online by e-mail
This is how you send a fax by email:
Create an e-mail with the recipient's fax number followed by: @fax.ecall.ch (e.g. [email protected]).
Add any file as an attachment. Click "send".
eCall transmits the message to the recipient's fax machine. Afterwards you will receive a dispatch confirmation.
This is how you receive a fax by email:
All fax messages arrive as an e-mail from eCall in your personal inboxThe message is attached as a PDF file. Open the file with a double click to view the fax.
Save, manage and archive the faxes on your computer.
Fax directly via our web portal
This is how you send and receive a fax in our portal
Send a fax: Go to 'Send' / 'Fax' in the portal. Write a message. If you wish, attach a file now. Click on Send.
Receive fax: To receive fax messages, you can rent one of our reception numbers. You will find your messages clearly listed in the logbook.
With eCall, you can also send and receive fax messages directly on your computer using your web browser in our portal – no fax machine or phone line required. Your contacts can be uploaded in a CSV file to create groups.
Start faxing online in less than two minutes:
eCall supports these file formats:
.DOC / .DOCX / .TXT / .RTF / .WRI / .DOK / .HTM / .HTML / .XLS / .XLSX / .PPT / .PPTX / .PDF / .JPG / .JPEG / .BMP / .GIF / .TIF / .TIFF / .PNG / .ZIP
The following files are ignored:
.VCF / .EXE / .P7S / .MSO / .EML
Please note:
► Graphics are automatically reduced in size to one page or page width.
► Max. 20 files and max. size 20 MB
These are your benefits with sending faxes online
Start faxing online in less than two minutes!
Own fax cover sheet
With this option, you can create an individual cover sheet with logo, matching fonts, images, graphics, etc., which fits your corporate identity. You can edit the cover page yourself using Word or as an HTML file.
High Privacy Fax
Send sensitive data such as financial information, bank information, patient information, etc. by fax using the High Privacy function. After transmission, the system overwrites the message so that it cannot be reconstructed. Only the connection data remains visible in the logbook.
Service Level Agreement (SLA) Premium
Your personal account manager will organise the resolution of any problems. You receive professional support around the clock via our eCall hotline.
Logfile delivery by e-mail
With the automated delivery of your logfiles via email you get an additional tool to control your fax communication. The data from the logbook can thus be archived cleanly and analysed in a more targeted manner.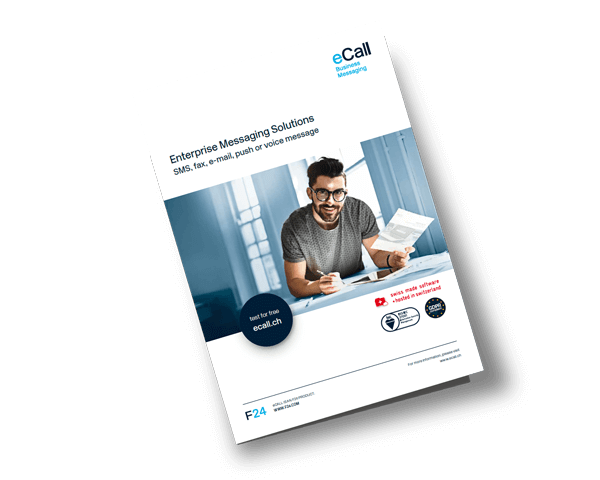 Optimise your business communication with eCall
Learn from our product brochure how to integrate our business messaging service into your software solutions, CRM, ERP and SAP system or apps without much effort.
Key uses of communication by online fax
Sending laboratory orders, documents, referrals and patient reports by fax.
Sending promotional offers and product information to customers and partners.
Purchase orders, order confirmations and sales contracts with customers, partners and suppliers.
Our price models
We offer different price models or individual terms. Let's talk about a tailor-made offer to suit your needs. Have a look at our price overview
Simply try it out for free. If you have any questions, we will be happy to assist you individually.
Telephone support
during office hours:
+41 44 787 30 70
Request or support
by e-mail:
Contact
by fax:
+41 44 787 30 71