Virtual mobile numbers and fax numbers
eCall offers virtual mobile phone numbers and fax numbers for receiving, sending and forwarding messages.
You can rent these two types of reception numbers
Reception numbers allow your recipients, such as customers and employees, to reply to messages. To rent virtual mobile numbers, you need an eCall
user account. In your eCall account, you will find the corresponding settings for the rental of virtual numbers in the navigation under "Numbers".
Rent virtual mobile phone numbers
A dedicated virtual mobile phone number allows you to receive*, forward and send online SMS messages. Any received message can be forwarded to one or more recipients. This enables the recipients of your messages, such as customers and employees, to reply to messages. Forwarding can be done via voice message (TTS), e-mail, SMS, fax or HTTPS – it can also be done using different channels simultaneously, e.g. SMS and e-mail.
Rent your own fax number
eCall allows you to receive, forward and send fax message with your own virtual number. All the fax messages you receive are displayed in the log of your eCall account. From there, you can forward them as PDF files to any e-mail address. If you want to keep your existing fax number, you can forward it using Swisscom's "Call forwarding" service.
* Receiving access & activation codes from social media providers such as Google, Facebook, WhatsApp as well as other providers via eCall virtual numbers
Receiving activation, security or access codes on virtual mobile numbers of eCall is only possible for customers with a business account.
For all other account types, reception is blocked for security reasons.
In addition, from 31 October 2023, the reception of codes from Microsoft and Apple will also be blocked.
► Please contact us if you have any further questions. We will be happy to assist you in opening an appropriate business account.
eCall tip: «Automatic reply SMS»
Would you like to send automatic reply SMS messages to your customers, patients or employees? eCall does this for you when you receive a message on a virtual mobile phone number rented from us. You can design the content of the replies individually according to your needs.
► Please contact us, we will activate the feature in your account for free: [email protected] | +41 44 787 30 70 | Contact form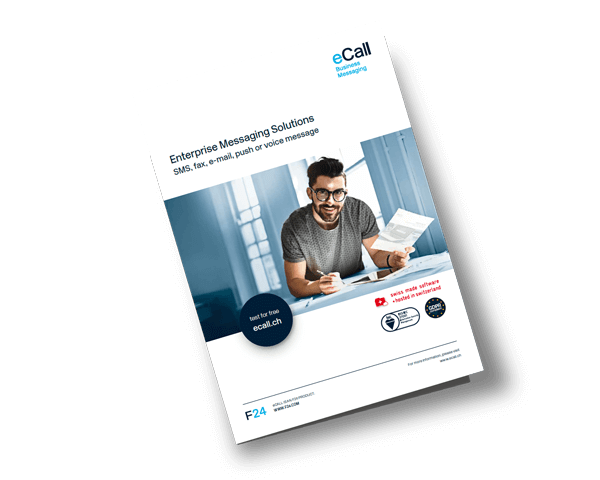 eCall virtual mobile numbers
optimise your business communication
Learn from our product brochure how to integrate our business messaging service into your software solutions, CRM and ERP systems or apps without much effort.