Send and receive customer information
by SMS
Address your customers with SMS messages. Quickly. Simple. Uncomplicated.
Send SMS messages to clients and receive replies
No matter whether it's a bank, a doctor's practice or a retail business: Our SMS service is used in many industries. With eCall, we offer a simple and flexible solution for sending customer information via SMS for various needs.
You will receive the responses from your customers via one of our reception numbers. Automatic reply SMS messages are also possible. Take a look at our flyer as a PDF and find the direct line to your customers.
Swiss quality since 1992
As an innovative traditional company, we let our experience and our satisfied customers speak for us.
Fast & reliable SMS sending
We send via high-quality routes so that your SMS also arrive quickly and reliably.
Simple & easy integration
Either via our easy-to-use web interface or via powerful interfaces.
Excellent customer support
Our personal customer support, like our solutions, is geared precisely to your needs.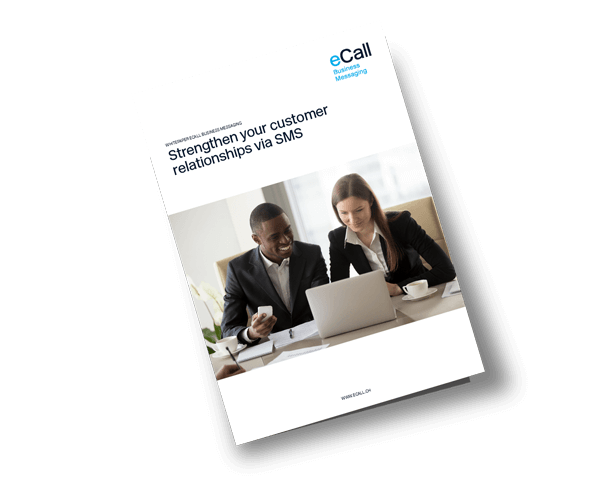 Strengthen your customer relationship with customer information via SMS
You don't have to reinvent customer communication to get your customers' attention. The desire for short, understandable messages is bringing a familiar technology back into focus: SMS.
In our whitepaper you will learn how to reach your customers with SMS. In addition, you will benefit from our numerous text examples and tips.
Powerful SMS API for sending customer communications
Our flexible and powerful interfaces allow you to easily connect eCall to your applications, websites or apps. Whether via email interface, SMPP, TCP/P HTTP/HTTPS WebService or UCP.
Just test it for free. And if you have any questions, we will be happy to assist you personally.
Telephone support
during office hours:
+41 44 787 30 70
Request or support
by e-mail:
Contact
by fax:
+41 44 787 30 71